Jurassic World: Dominion Dominates Fandom Wikis - The Loop
Play Sound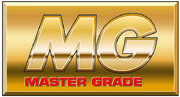 Master Grade (MG) (マスターグレード, Masutā Gurēdo) is a line of Gunpla kits first released in 1995 as part of the Gundam 15th Anniversary project.
Master Grade "Ver. Ka"
Beginning in 2002, veteran mecha designer Hajime Katoki began redesigning various Mobile Suits and releasing them in the Master Grade line under the label of "Ver.Ka" (Version Katoki). Some of the Ver.Ka kits were produced as a result of annual fan votes.
Master Grade Extreme (MGEX)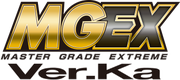 On June 2020, news of Bandai registering a new trademark called Master Grade Extreme (MGEX) surfaced. Later on, it was officially announced to be a new sub-line as part of the Gunpla 40th Anniversary celebration. The marketing states that kits in this line will have "Extreme Points" which will apparently vary between releases. The sub-line has its own "Ver. Ka" kits. Released in September 2020, the first kit was the MGEX RX-0 Unicorn Gundam (Ver. Ka).
Following the reorganization of Bandai Namco Group, box covers of reissue and future release of kits from September 2018 onward feature blue Bandai logo instead of the original red logo.
Information
Scale: 1/100
Started: 1995
Lineup Inclusion: All Gundam Timelines (except Regild Century)

Non-Gundam: Aura Battler Dunbine, Mobile Police Patlabor
Spin-off:

Master Grade Figurerise

(includes Dragon Ball Z, One Piece,

Tiger & Bunny

,

Kamen Rider

)
Lineup
NOTE: Gunpla lineups are based in order of release.
This list is currently updating due to being an ongoing line.
Master Grade Extreme
| MGEX No. | Packaging | Model | Timeline | SRP (¥)[1] | Release Date | Extreme Point |
| --- | --- | --- | --- | --- | --- | --- |
| 001 | | RX-0 Unicorn Gundam (Ver. Ka) | Universal Century | ¥23,000 | 2020 September | Color-changing flexible LED running throughout the model. |
[1]Yen price excluding 5% tax (8% from 2014 to 2019; 10% from 2019 October onwards).
Notes
Master Grade kits differ from other 1/100 scale Gunpla, with their level of detail, articulation, and proportions being second only to the Perfect Grade line.
A majority of MG kits feature a skeletal inner frame with working hydraulics; some also accommodate Gunpla LED Units (usually sold separately) for light-up gimmicks.
To give viewers a perspective of the Mobile Suit's size, many MG kits come with 1/100 scale figurines of the pilots or key characters of their respective series. In addition, some kits include 1/20 scale character figures.
In addition, many Mobile Suits from the Universal Century and Cosmic Era timelines have received redesigns under the monikers "Ver.1.5", "Ver.2.0", "Ver.3.0", and "Ver.RM".
MG kits from 1995 to 1998 included heavyuser parts that could be cemented to the armor panels for added detail.
Older MG kits before 2006 that have been reissued in the 2010s use the 2006 SB-1 Beam Saber runner in place of the original runner. The original runner's mold has been decommissioned due to reaching its limit for usage.
See Also