Jurassic World: Dominion Dominates Fandom Wikis - The Loop
Play Sound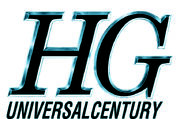 High Grade Universal Century (HGUC) (ハイグレード ユニバーサルセンチュリー Hai Gurēdo Yunibāsaru Senchurī) is a line of 1/144 scale Gunpla kits of the Mobile Suits from the Universal Century timeline in the Gundam meta series. First produced in 1999, the line supplanted normal HG kits such as the HG RX-78-2 Gundam. The kits are known for their ease of construction and generous use of polycaps and tinted plastic for details such as visual sensors, monoeyes and Beam Saber effect parts.
Starting in 2010, the HGUC line extended to the After Colony, After War, Future Century, Cosmic Era and Correct Century timelines with the HGAC, HGAW, HGFC, HGCE, and HGCC lines, respectively, as part of the "HG All Gundam" project. Whereas the HGUC box packaging uses a gold stripe on the side panels, the alternate timeline kits are distinguished by the silver stripe on their boxes.
In June 2015, Bandai initiated the "Revive" project to celebrate the 35th anniversary of Gunpla. Starting with the RX-77-2 Guncannon, previous HG releases are given a complete redesign using newer technology for improved detail, articulation, and proportions. The project was retitled "Gunpla Evolution Project" in April 2017 to prepare for the 40th anniversary of Gunpla in 2020, with the MSZ-006 Zeta Gundam as the first in the new line of HG redesigns, as well as some new kits on other lines.
Lineup
NOTE: Gunpla lineups are based in order of release.
This list is currently updating due to being an ongoing line.
Notes
Patterned from the format started by the Old HG, HGUC packaging uses a colored square before the MS name, which denotes the property the MS comes from:

Yellow Orange: Mobile Suit Gundam, MSV, 08th MS Team, MS IGLOO, Harmony of Gundam, Blue Destiny, Battlefield Record U.C. 0081
Light Green: Gundam 0080
Blue: Gundam 0083
Green: Zeta Gundam, Zeta MSV, Advance of Zeta
Orange: Gundam ZZ , Moon Gundam
Cyan: Gundam Sentinel
Red: Char's Counterattack, Gundam UC, Gundam UC MSV, Twilight Axis, Gundam NT
Pale Blue: Gundam F91, Crossbone Gundam
Yellow: V Gundam
Red Orange: G Gundam
Purple: Gundam Wing
Sky Blue: Gundam X
White: Turn A Gundam
Dark Blue: Gundam SEED, Gundam SEED Destiny
Gloss Blue: Extreme Vs

MS with heights that are near the 15-meter range (e.g. Gundam F91), while still classified as 1/144, are actually molded in 1/132 scale.
See Also