The High Grade Universal Century (HGUC) 
RX-78-2 Gundam
is a 1/144 scale kit released in 2001.
Includes
RX-78-2 Gundam
Beam Rifle
Shield
Bazooka

Adapter piece for Bazooka

Non-transformable Core Fighter
Kit Features & Gimmicks
Shoulder parts can be pushed frontwards for slightly extra articulation.
Chest joint can tilt from left or right if slightly pulled up.
Beam Saber hilts can be optionally removed from the backpack as handheld weapons.
Beam Rifle's foregrip & sensor can swing left and right.
Bazooka can mount onto the rear waist armor via an Adapter.
The Shield can attach onto the backpack.
Tips & Tricks
For better results, most/some of the details are needed to be applied/panel-lined with Gundam Markers and/or Mr. Color paints.
The Dengeki Hobby Magazine (July 2001 issue) exclusive Mechanism Sticker set for HGUC RX-78-2 Gundam decal sheet can be applied on this kit.
Due to the kit possessing it's own unique Beam Saber parts (complete with slightly thick pegs), We recommend that you do not use the Beam Saber parts from the SB-6 & SB-13 runner, which can tighten the assembly between the hilt & the effect parts (or in a worst case scenario, the Beam Saber effect part's peg may break off from the hilt while attempting to remove it.).
Variants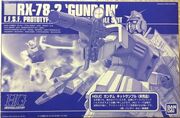 A store front sample (with monochrome packaging) is available as a display for Hobby Shops and shopping malls in Japan, though this was entirely not for sale until it was popped up to several online auctions. 
Later reissues includes the backpack (with latch joints) & the modified foot parts included in the G-Armor (RX-78-2 Gundam + G-Fighter) kit.
The Gunpla is also released in the US under the "Skill Level 3 Model Kits" line with a similar-but-different packaging. This release also omits the Hyper Bazooka and the Core Fighter accessories.
Standard Releases
Limited Edition
RX-78-2 Gundam (with Gunpla DVD Catalogue) - An unchanged release of the kit comes with a DVD containing a Gunpla catalog. 
Exclusives (Event, Prizes etc)
Cancelled Items
Notes & Trivia
Several of the designs, including the stout arms and legs, had taken cues from the MG Gundam Ver. 1.5 kit.
Vintage releases of the kit comes with a limited edition Gundam Weapons: HGUC RX-78-2 Gundam Special Book.
There is a common problem for the first version of the kit: the backpack somehow does not hold the Beam Saber handles well.
Gallery
See Also